March 2013
March 1-30 ~
Hieronymus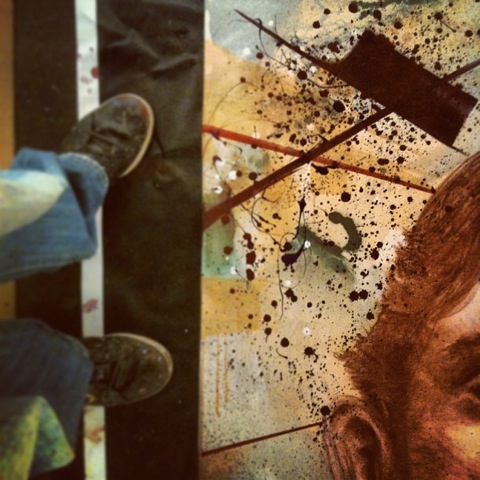 Come experience a one of a kind installation, by Hieronymus, of paintings on canvas and on the wall, inspired by cabinet cards.
Brian Kubecki
Brian Kubecki is an Artist practicing Winston-Salem, North Carolina. His creative and thoughtful approach to art-making generates work that pushes boundaries and challenges conventional expectations. Brian is currently completing a low-residency Masters of Fine Arts program in Philadelphia with a focus on unidimensional (virtual) to multidimensional (actual) transitions.
I Need You is a show that is completely dependent on something for its success – you. Experience a jaw-shattering reexamination of visual art and be apart of something you won't soon forget. p.s. I was kidding about the shattered jaw.
Travis Phillips
"My work is about people, the decisions we make and how we affect/effect each other. I address these topics from every visual avenue I can because life, and the happenings therein, are far too complex to be bound to one stylistic approach."
Isolation; Something To Die For
We are in danger. The crux of humanity hinges upon the ability to intentionally interrelate. However, it seems our social skills are becoming increasingly outdated and traditional communication is becoming ever more obsolete. Living with the awareness of another's humanity is seemingly no longer a priority.
I am interested in exploring what it means to be human, more pointedly, what it means to be a human connected to other humans. Language fails to fully disclose our need for each other. Thus, all my work is relationally bound in this way, seeking to tease out truth and the fullness that lies therein.
Recently this study on connection has incongruously led me to the focus of isolation. When approaching solitude intentionally, it can breathe life and restoration.
However, when stumbled upon through ignorance or force it breeds oppression and turmoil.
Often I present the viewers with an isolated figure, be it literally or through another form of estrangement. I want the viewer to take part in my figure's solitude and explore the origin of the subject's present state.
However, this study in isolation and disconnect is not intended to be a final of word of discouragement. Human relationship is a striking and precious thing and through leaving it starkly unstated in my work, the viewer is hopefully left with a thought of the unmentioned beautiful.